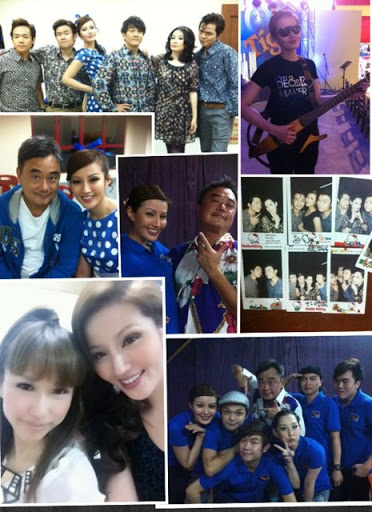 I have been busy running around the states of Malaysia for the Chinese Education Concert Tour. It's a really meaningful and fruitful trip as I have this golden opportunity to travel to various places of Malaysia to perform and also to contribute to the society. The theme for our performance this time is 60s, hence for the opening we dance and sing some famous oldies. The other singers who are part of the tour are Wang Yi Fei and Miao Miao, Tong Xin, Wu Jia Hui and Victor Lee. Also two foreign Taiwan singers join in the good cause too they are Bobby Chen and Kelly. We really had a quality time together. Not to forget all the hospitality and the scrumptious food;).
最近,都忙着跑华教义演。我们真的是全马跑透透,到达10个学校演出,可说是意义非凡。这一次的主题是60年代,所以我们边唱边跳多首的经典歌。其他参与的歌手有,黄一飞与瞄瞄组合,童欣,伍家辉和Victor李俊杰。当然少不了两位海外歌手,陈升大哥和潘家丽。我们真的太享受了,除了本地人士的热情招待还有数不尽的道地美食:)
Beberapa minggu ini, Wincci sibuk dengan konsert amal bagi sekolah Cina. Wincci telah menyanyi kat 10 sekolah di Semenanjung Malaysia. Konsert ini adalah sungguh memenfaatkan Kerana Wincci bukan sahaja mendapat peluang keemasan untuk membuat persembahan tetapi pada masa yang sama Wincci dapat menghulurkan bantuan kepada masyarakat. Penyanyi lain yang terlibat ialah Wang Yi Fei Dan Miao Miao , Tong Xin, Wu Jia Hui dan Victor. Selain itu, Penyanyi luar negara Bobby Chen Dan Kelly juga melibatkan diri dalam konsert amal ini.